FormKeep is the best for Developers and Designers
Just design it the way you like it and we store it.
Simple.
Start Free Account
Industry Leader
Thousands of designers and developers have used FormKeep Form Endpoints for many years to make their jobs easier. FormKeep processes hundreds of thousands of Forms per month.

Your Tools
FormKeep works with whatever tools or CMS you're using to develop your website. Simply add a form action to your HTML and we will begin handling your forms submissions for you.

Complete Control Over Layout
FormKeep is layout independent. You design your forms 100% to your specifications. When your user presses submit on your form, we catch the data, store it and make it available to you directly or via connectors to other applications.

Collaborate and add team members to the form
Give read access to other members of the team and business owners while giving edit access to the web developer or consultants helping develop your site.

Easy Integration With Popular Applications
FormKeep offers a JSON API and Zapier connectors to thousands of popular cloud applications such as Salesforce.com, Google Docs, Hootsuite, ZenDesk, MailChimp, HubSpot, Slack, and WebMerge.

Efficient, Flexible Access to Your Data
FormKeep makes it easy to access your data efficiently via web, email, export or JSON API.

Any Form Type
FormKeep can handle any type of form or form control you can implement. We store data from check boxes, radio buttons, text, date, email, numbers, telephone numbers and more.

Excellent Anti-Spam
FormKeep offers world-class spam detection and remediation so you can avoid sifting through thousands or tens of thousands of records to find the data you really care about if you become a target for spammers.

Helpful, Accessible Support
FormKeep prides itself on outstanding, responsive customer support. We will help you get up and running and respond to your questions.

Simple Billing, No Hassle
FormKeep offers monthly and annual pricing plans. If you are building a website for a customer, we can bill them directly so you don't have to worry about the paperwork and invoicing. We make it easy to transfer an existing form over to another customer with a couple of clicks.

Features
Industry leading features covering all your needs
Email Notifications
Email all the data to the team every time a form is submitted
Slack Notifications
Receive a message in any channel whenever a form is submitted
Auto Responder
Follow up form submissions with an automated email to talk about next steps
Thank you messaging
After a user submits a form, display a message or redirect them back to your site
Spam Filtering
Stop bots from submitting your forms and filling your systems with junk data
Webhooks
Send the data to your HTTP endpoint for every submission received
App Integrations
Connect your form to thousands of third party apps, and push data to them in real time
Landing Pages
Dedicated, hosted webpages for your forms that you can share directly
Mobile Friendly
Forms look great on any device and scale as you change screen size
Team Roles
Add team members to specific forms under your account with view or edit roles
Form Embedding
Embed forms natively into your website simply and easily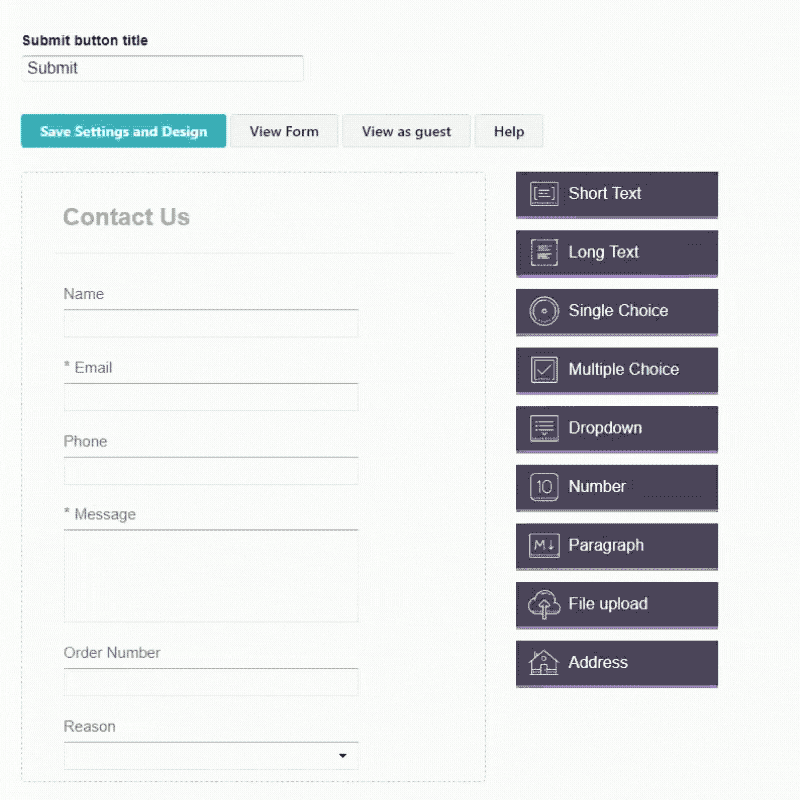 Not a designer or developer?
Use our drag-and-drop form builder to create the perfect form without writing any code.
Learn More